---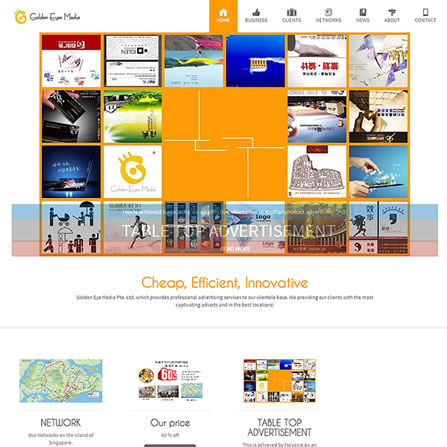 Project Description
Golden Eye Media Pte. Ltd. is a professional advertising agency company, with its main competency is on the advertisements shown on the elevators and restrooms and tabletop advertising. Our company provide a full-fledged integration of services for our clients, inclusive of:
With sincere gratitude towards our invaluable clients, with your choice our services, giving us the opportunity to grow and to achieve, we pledge to provide our best services in order to satisfy your needs.
·Tabletop ad is a unique patented medium that can only be offered by TTMgral part of the table
·It is heat and tamper resistant and doesn't damage the tables
·Tabletop ad is unmissable and at the centre of conversation as its placed directly in front of consumers whilst they eat and drink
·Tabletop ad has an average 18 minute dwell time and has prompted high recalls of 83%.
Live Preview