Hungarian Foundations Keep Warm by Burning Money
Hungary's central bank is giving away money to burn. Literally.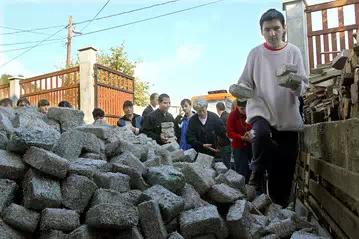 The manner in which torn and degraded bills are disposed of is pretty much the same everywhere. But the Hungarians came up with an idea that is unique.
The bank converts forint bills that have been recalled from circulation into bricks. These are then offered out of charity to non-profit organizations or foundations that use them for heating in the cold season.
The tender for charity organizations has been announced for the fourth time this year.
Every year, the bank collects around 40 to 50 metric tons of bank notes that are no longer to be used for payment, the bank's communications department said. In 2009, the total was higher when HUF200 bills were recalled to be replaced by coins because they were damaged too easily.
The bricks are a side product of the destruction process, created from shredding down the damaged bills—the machine used for the purpose can destroy 30 notes per second—and compressing them into blocks for easier transportation.
In the past three years the winners were non-profit organizations or foundations. If they had suitable furnaces, their heating for the whole of winter was basically covered.
And the forint has good heating value, on par with that of brown coal, the bank says.
So does Szilveszter Kiss, one of the winning applicants from the 2010 tender announcement. Mr Kiss runs a foundation supporting children and families in Nagocs, a small township in western Hungary.
"We could well use the bricks to heat our three-floor building which is about 750 square meters in size," Mr. Kiss said.
The winning applicants can expect shipments of four to six tons of money bricks every three to six weeks depending on how much is added up.
Mr. Kiss says the money bricks are a precious resource for the winter which is why he is careful in portioning them.
Asked whether he would apply again, Mr. Kiss said he doesn't think it is likely that the same charity would win in two consecutive years, but added that he might give it a shot.
The central bank said it is also offering the bricks for artistic purposes.
This year's tender was won by two organizations supporting disabled children in rural areas.